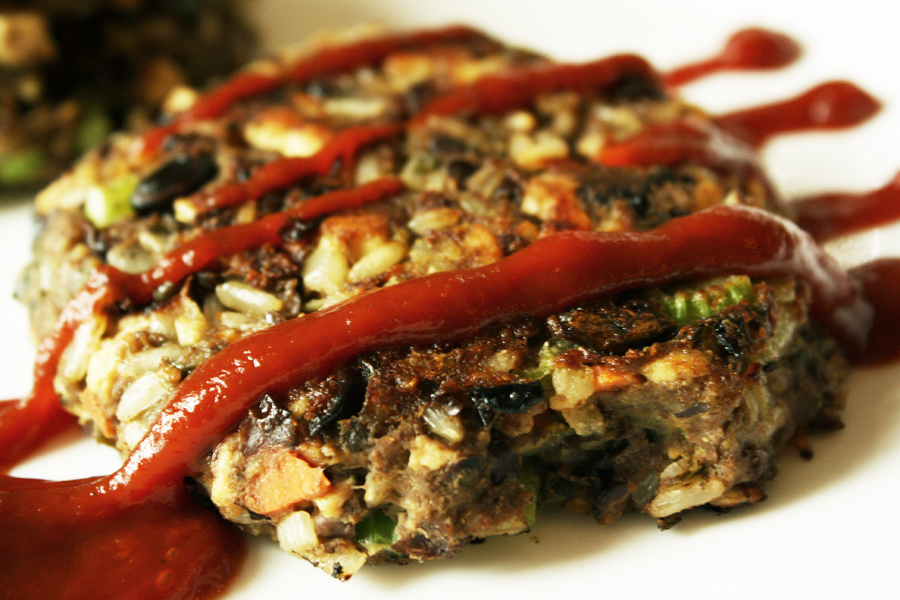 Barbecues are always a hot thing to do, but with the increasing amounts of celebration surrounding a vegetarian diet, the grill game's a-changin'. Whether you're a proud member of the plant-based parade or just have some veg-inclined people on the guest list, chances are your veggie burger skills will be tested at some point during the warm season.
The good news is the rules are few in the "science" of making veggie patties. Pick delicious ingredients, mash 'em up, form into patties, and throw on the grill (or skillet). The best part? Veggie patties are profoundly forgiving when it comes to perfecting a recipe. Sneak a taste before cooking and if you're not quite in love, just mash more goodness into the mixture to cover any mistakes. While we're at it, here's some pointers to help make your whole food-minded mission a success, and help you build a better veggie burger.
How to construct a winning veggie patty:
The base: Choose protein-rich or savory whole foods to provide the main "meat" of the burger. Different types of beans, seeds, nuts, tofu, and mushrooms work well. Grains and pseudograins like rice or quinoa may also be added, but if you're eventually putting burger inside a bun, don't turn your burger into a "second bun" by packing it too heavily with grains.
The chew: Sneak a few extra minced veggies into the mix and add extra textural interest, flavor, and sneaky nutrition. Onions, carrots, celery, corn, peas, and even sun-dried tomatoes can all add tasty complexity.

The seasoning: Any from-scratch burger wouldn't dare be complete without some seasoning and spice. Try a combination of fresh herbs, like oregano, parsley, and thyme, and don't be afraid of raiding the spice cabinet too for some grill-worthy spices like cumin or chili powder. A little sea salt is usually friendly too.
The binder: All your choices may taste great, but they won't be doing anyone good if they're sitting in broken pieces on the bottom of the grill. A binder is the all important ingredient that sticks all your choice yumminess together. Two favorites in this category: flax seeds and chia seeds (ground up is preferred). Also useful are algae and seaweed — like kelp or Irish moss — which are mineral-rich natural foods whose high concentration of mucilage takes the place of less desirable ingredients like corn starch.
Here's one of my go-to burger recipes that seems to always meet with approval and cheers:
Chia Bean Burgers
These patties can also be pre-cooked, then gently warmed as needed.
INGREDIENTS:
15 oz cooked black beans (unsalted)
1¼ cup cooked brown rice
4 oz extra firm tofu, minced or crumbled fine
¼ cup Navitas Naturals Sprouted Chia Powder (or ground chia seeds)
¼ cup nutritional yeast
1½ tsp fresh oregano, minced (or ½ tsp dried)
1 tsp palm sugar
1 stalk celery, minced
1 carrot, minced
½ cup minced yellow onion
3 Tbsp organic soy sauce or Nama Shoyu
DIRECTIONS:
With a potato masher or the back of a fork, mash the black beans in a large bowl into a chunky puree. Mix in the remaining ingredients, one at a time. (Alternately, pulse ingredients together in a food processor). Form into 8-10 patties and refrigerate for about an hour.
Patties may be brushed with oil (coconut oil works well) and placed on a grill, or place into a well greased frying pan and cooked over low heat for several minutes on each side. Makes 8-10.
Variation: Soak 2 Tbsp dried wakame flakes for 20 minutes. Drain and mash into the mixture before cooking. Wakame adds an extra strong punch of trace minerals and a light savory flavor.
Oh, and my Portobello Burger Patty is another drool-worthy favorite – and can even be made using a dehydrator. Whoa!