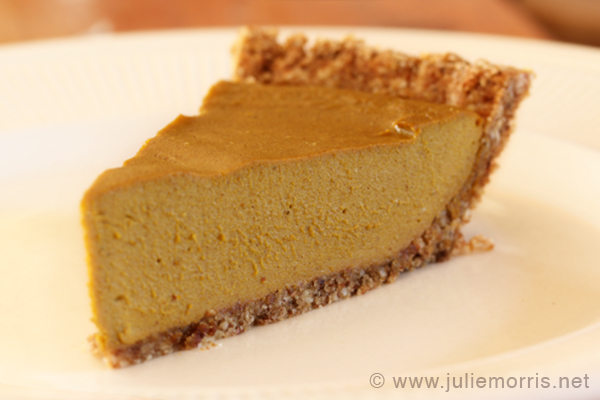 Don't be afraid of using fabulous kabocha squash instead of traditional pumpkin – it adds a sweetness and flavor that surpasses any other squash for pie, and allows for a low sugar dessert recipe. Ingredient notes: agar agar is a seaweed that is available in most health food stores. It has no taste whatsoever, it's simple to use, and it allows the pie filling to set in the refrigerator instead of the oven. Yacon syrup is a beneficial low glycemic sweetener extracted from the yacon root.
Japanese Pumpkin Pie (kabocha squash)
INGREDIENTS:
For the pie:
2 cups pureed cooked kabocha squash (Japanese Pumpkin)*
1¼ cups water
1½ Tbsp agar agar powder
1 cup cashews
1/3 cup yacon syrup
1 Tbsp cinnamon powder
2 tsp ginger powder
½ tsp nutmeg powder
¼ tsp clove powder
1 tsp vanilla extract
For the crust:
1 1/2 cup almond flour (you can make this by grinding almonds in a food processor)
1/2 cup buckwheat flour
1/4 tsp sea salt
4 Tbsp coconut oil
1/2 Tbsp vanilla extract
1 Tbsp palm sugar
DIRECTIONS:
Make the crust first. Preheat the oven to 325 F. In a food processor, combine all the crust ingredients until a crumbly dough has formed. Dough should stick together when pressed – if not, add a touch more water. Press into a pie pan evenly, and bake for 25-30 minutes, or until edges just begin to brown. Remove from oven and let cool.
To make the filling, bring the water to a simmer in a small saucepan. Add the agar agar powder, and cook over low heat for about 2 minutes, or until powder is completely dissolved. Let cool for a moment, and pour into a blender.
Add the cashews into the agar mixture, and blend until a smooth milk has formed. Add the remaining ingredients and blend again to form a silky puree. Pour the warm mixture into the prepared pie crust, and place in the refrigerator for 2 hours, or until pie has set. Serve as desired.
*To make kabocha puree: Preheat the oven to 375 F. Slice a small squash in half and remove all the seeds and stringy material. Fill a baking tray with water about half an inch high. Place the the two halves face down in the water, place the tray in the oven, and bake for about 45-50 minutes or until squash is tender. Turn the squash upside down and let cool before handling.
Use a spoon to scrape out the orange flesh from the soft green rind. Place in a blender or food processor to whip into a puree. (The quantity for the above recipe is measured after the squash has been processed.)