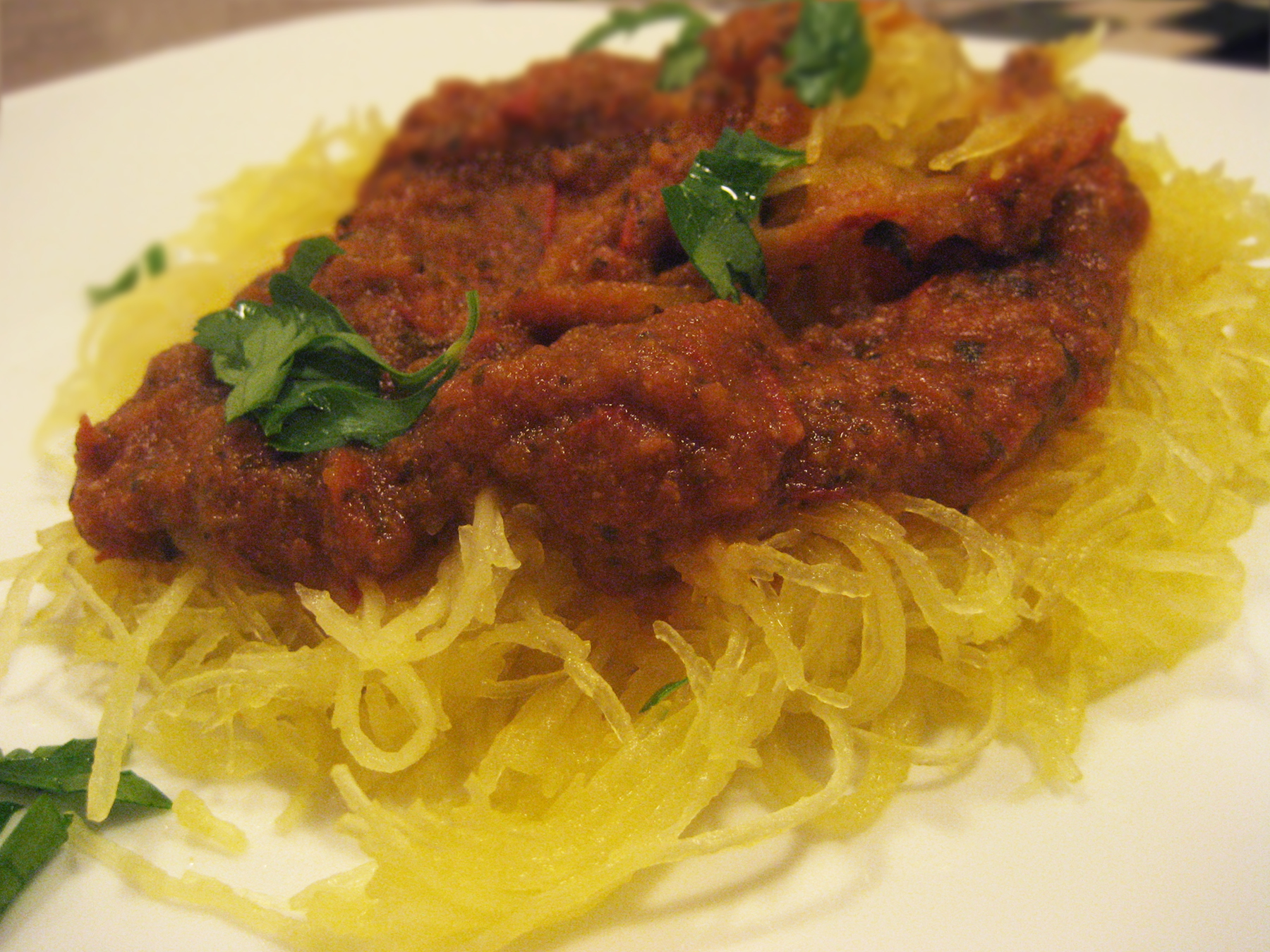 Spaghetti Squash with 3-Step Gourmet Herbed Marinara
Trade in that nutrient-void pasta slopped with a jar of some name-brand red stuff for this fresh and flavorful natural meal. Mesquite and the sweet herb stevia lend a mild sweetness to balance out the acid undertones from the tomatoes, and plentiful fresh herbs bring this dish into the limelight. Served with spaghetti squash, this is a feel-good delicious dinner through and through.
INGREDIENTS:
2 lbs spaghetti squash (about one medium)
1 cups chopped onion
3 medium cloves garlic, minced
2 Tbsp coconut oil
3 cups deseeded and chopped tomatoes (about 5 medium)
¼ cup red wine
1/8 tsp green stevia,* or ½ tsp agave nectar
½ tsp mesquite powder (optional)
3 Tbsp chopped fresh oregano
2 Tbsp parsley, plus 2 Tbsp extra for garnish
¼ tsp sea salt
½ tsp black pepper
DIRECTIONS:
Prepare the squash:
Cut the squash in half, lengthwise. Place face down in a baking pan, and fill pan with a half inch of water. Bake at 350 degrees for 40 minutes.
While squash is cooking, make the 3 step sauce:
1. In a large sauce pan, sauté the onions and the garlic for about 5 minutes, or until the onions begin to become translucent.
2. Stir in all the other ingredients and bring to a boil. Reduce heat to low, and simmer for 20 minutes.
3. Place the sauce in a blender and puree until fairly smooth. Return the sauce to the pan, and keep at a low simmer until ready to be served.
When the squash has finished baking:
Remove from the oven and allow to cool for a couple minutes. Flip the squash over, and scrape the flesh with a fork to extract the angel-hair like strands from the shell.
To serve:
Place a mound of spaghetti squash on a plate and top with sauce as well as extra chopped fresh parsley for garnish. Or, combine the squash with the sauce directly in the pan and sauté for a couple minutes to reheat and remove any excess moisture.
Serves 2-3 as a delicious entrée.
*Do NOT substitute white stevia for the green in this recipe 1:1. White stevia is much sweeter than green. If you choose to use white stevia, add only a tiny touch to avoid over sweetening.