Around this time of year, it's always amusing when people find out my personal diet is a vegan one (let alone also superfood-obsessed). "Are you celebrating Thanksgiving?" they ask hesitantly, as if worried I may break down in confessional tears at any moment. "Of course!" I explain jubilantly. Because, you see, vegan Thanksgiving is actually amazing: From the savory casserole to the tangy cranberry sauce to the mushroom gravy, there's so much plant-based goodness to enjoy … and I love it all.
Yet without a big platter of turkey or other meat to serve, many people look at the holiday table and worry "where's the protein?" Since faux meats aren't really my style, I usually skip the soy-log centerpiece, and instead impart protein in all my dishes – meaning there's not "a" protein on the table, but rather proteins. There may be cream sauce in the casserole made from beans, nuts worked into the roasted vegetables, and savory quinoa stuffed into the squash. And as of this year, I'm proud to say, there will even be protein in the pie.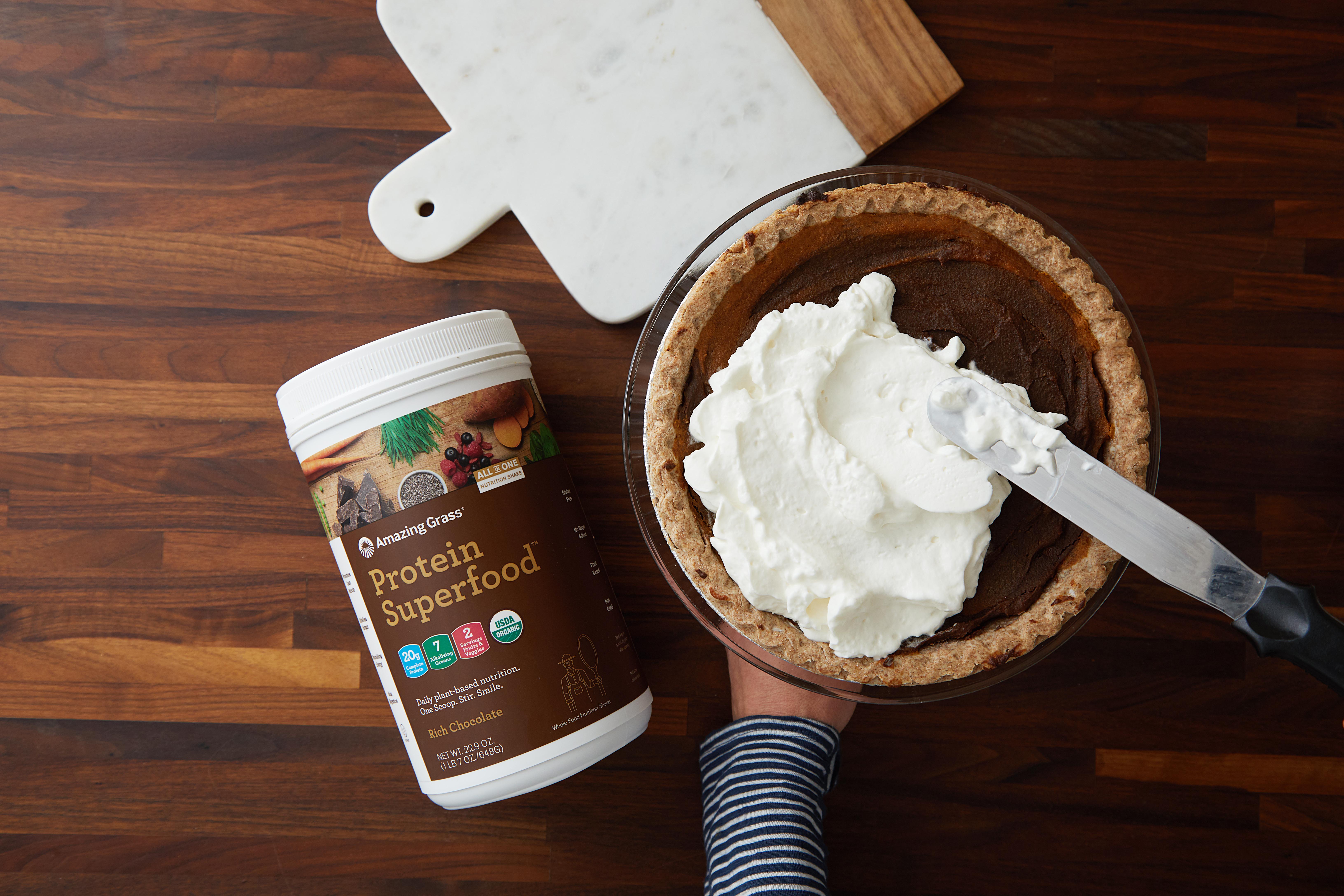 As a card-carrying member of the pumpkin pie fan club, the challenge is real: how can you create an even better pumpkin pie? For this, I have two words: Chocolate Protein. While I use Amazing Grass Protein Superfood powder almost daily in my smoothies, their new Rich Chocolate flavor is too delicious to be destined solely to the blender. Adding it to pumpkin pie makes each bite turn into a hybrid of classic pumpkin and chocolate mousse – in other words, totally irresistible. Plus, the fact that suddenly you have a fully natural pie made without refined sugar, no difficult to digest dairy, and instead packed with an additional 20 grams of plant-based protein and 2 full servings of vegetables (thanks to our Amazing Grass addition which includes power-greens like wheatgrass and spirulina!) … and you seriously have one award-winning kind of dessert.
And, let's not forget, all foodie-enjoyment aside, you still have one additional reward yet to savor. The next time someone asks you where you get your protein, you can look them straight in the eye and officially answer: PIE.
Happy Thanksgiving, friends.
CHOCOLATE PROTEIN PUMPKIN PIE
The chocolate flavor is treated almost like another spice in this exceptionally tasty, rich yet light pie. What's more, if you cut this pie into eights, each slice has about six grams of protein!
Makes 1 pie
1 whole wheat or gluten-free pie crust
1¼ cup raw cashews, soaked 6-8 hours (or overnight) and drained
1 (16-ounce) can of unsweetened pumpkin puree
1 scoop Amazing Grass Rich Chocolate Protein Superfood
½ cup coconut sugar
2 tablespoons maple syrup
½ teaspoon vanilla extract
½ teaspoon sea salt
1 teaspoon grated fresh ginger root
½ teaspoon ground cinnamon
1/8 teaspoon nutmeg
1 cup non-dairy whipped cream*
1 teaspoon cacao powder, for garnish (optional)
Preheat the oven to 350° F. Pre-bake the pie crust according to the manufacturer's directions (if needed).
Meanwhile, to a food processor, add all the remaining ingredients except the whipped cream and cacao powder. Blend until fully incorporated and very smooth. Transfer the mixture into the prepared pie shell, spreading into a flat layer. Bake for 45 minutes. Remove the pie from the oven and let rest on a baking rack until entirely cool, about 2-3 hours. Refrigerate until ready to serve.
Just before serving, spread the whipped cream on top of the pie, dust with cacao powder, and cut into slices.
*You can use a store-bought variety of non dairy whipped cream, or make your own. If opting for a homemade route, refrigerate 2 cans of full-fat coconut milk overnight. Then, scoop out the separated white solids of the milk into a mixing bowl. Whisk until smooth, adding a spoonful or two of the remaining coconut milk liquid if needed to thin. May be served as-is or lightly sweetened by whipping in a spoonful of maple syrup.
Amazing Grass has generously offered an exclusive discount to JulieMorris.net readers: Get 40% OFF your order with code JULIEMORRIS16 (you must create an account in order for the code to work). This post is sponsored by Amazing Grass – all opinions expressed are entirely my own.