With stores increasingly inching their holiday display setups earlier on the calendar, taking part in at least some of the culinary festivities seems harder than ever to object to. And while your family recipe for the World's Best Pecan Pie may require at least a plate's worth of participation, I'd like to offer you a few work-around ideas for the rest of the season … ones which allow you to engage in the holiday spirit while keeping your wellness priorities fully intact! Here are four of my favorite healthy hacks for the season:
Make A Crafty Hot Apple Cider | This one is easy: If you're craving hot apple cider, but don't want the sugar load of a couple cups of apple juice, use my convincing stevia hack instead. Boil your mulling spices in water instead of apple juice, then add just a splash or two of apple juice per serving. Add stevia to bring the sweetness up to a regular cider level, and serve warm! You'll be shocked at how much this faux cider tastes like the real thing, with just a fraction of the sugar.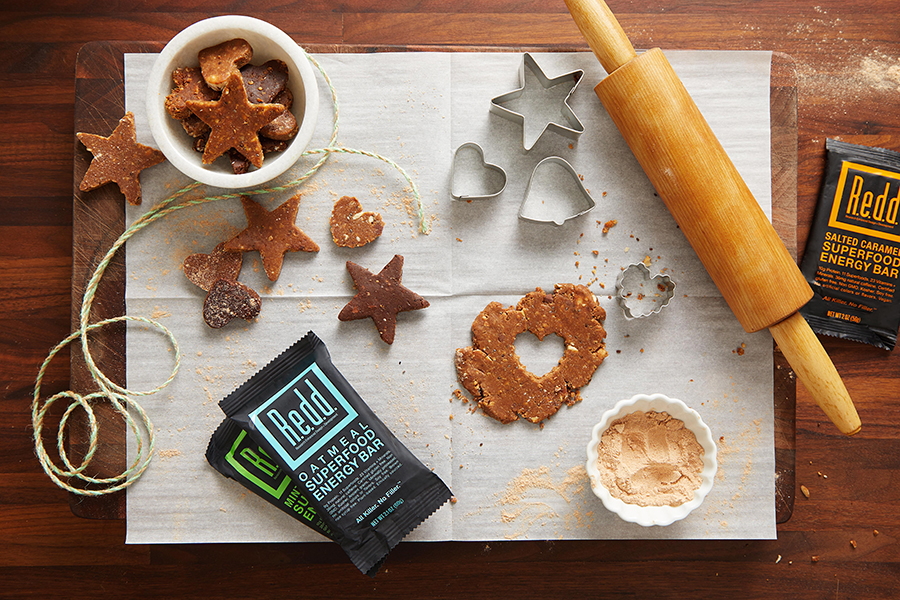 Get Creative With A Batch Of Superfood Cookies | Everyone loves holiday cookies, but with their liberal concentration of butter and sugar, most holiday cookies do not exactly love you back. One of my favorite hacks is to actually use healthy energy bars in the place of cookies through a little sculptural ingenuity. The bars get made to look like cookies by flattening them slightly with a rolling pin, then using small decorative cookie cutters to create festive forms. Of course, you'll need a really great cookie-ish flavored bar for this method, and I know of no better candidate than Redd Bar, which I'm frankly obsessed with. Redd Bar is a true superfood bar, which counts chia seeds, quinoa, maca, yerba mate, and a litany of super-fruits like goji berries, mangosteen, and schizandra amongst its hyper-clean, mostly organic, and fully plant-based ingredients. Plus, with vegan protein powder mixed in every bar, your "cookies" are suddenly a protein-, fiber-, and micronutrient-rich powerhouse. Oh, and did I mention Redd Bars actually taste like cookies? No kidding – these are some of the most indulgently delicious bars I've come across, with soft texture and a just sweet-enough taste that will have you double-checking the brag-worthy nutrition facts with awe and pride.
Redd Bar features flavors like Oatmeal, Chocolate, Peanut Butter, Salted Caramel, and Chocolate Mint, so you actually have a lot of cookie options here. While you can attmept to make the difficult decision of choosing just one variety, you can also opt for a crowd-pleasing solution by using a mix. I find that each bar makes about 5-6 small cookies, depending on the size of the cookie cutter used, and don't forget that you can aways roll up the excess bar "dough" left over from cutting and ref-latten it to stamp out an extra cookie or two. To get a powdery look, you can sprinkle a little bit of low-glycemic lucuma powder on top, instead of sugar, for an attractive presentation without the sugar rush.
Mix Up A Worthier Whip | From dropping a dab on hot drinks to smothering over a pie, having whipped cream make the rounds of your holiday table is virtually inevitable. But rather than using a heavy dairy cream variety (and subjecting your body to its artery-clogging, cholesterol-raising aftermath), simply use coconut cream instead! To make about ½ cup of this "worthier whip," simply chill a can of coconut cream (do not use reduced fat) in the refrigerator overnight, scoop the firm white layer that forms on top into a mixing bowl or mini blender, and whisk/mix until smooth, adding a spoonful or two of the clear coconut cream liquid as needed to loosen. The result is perfect whip cream that's cholesterol-free and full of skin-healthy fats.
Put Some Real Chocolate To Use | Tis definitely the season of chocolate, which means you have the perfect opportunity to use one of the world's best superfoods: cacao powder. Cacao is the raw, natural, superfood form of cocoa, and offers around double the antioxidant capacity! Using pure cacao powder also allows you to control your sugar levels more easily (if you're used to using a sweetened chocolate mix) – and you can even make your chocolate treats low glycemic by using coconut sugar or agave. From hot chocolate to rich, gooey brownies, choose cacao for an instant and seamless nutritious upgrade.
Redd Bar has generously offered an exclusive discount to JulieMorris.net readers: Get 25% OFF your first order with code reddsuperfood. This post is sponsored by Redd Bar – all opinions expressed are entirely my own.