Available at bookstores and culinary retailers nationwide.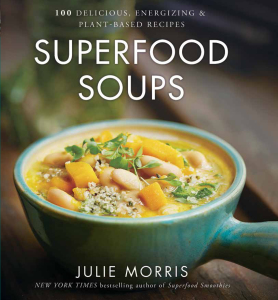 NEW: Soup's on! These mouthwatering recipes from New York Times bestselling author—and superfood expert—Julie Morris simply brim with goodness. Acclaimed superfood chef Julie Morris has chosen 100 favorites packed with nutrient-dense and plant-based whole foods such as vegetables and fruits, legumes and grains, nuts and seeds. Plus, she boosts each dish with such scientifically lauded superfoods as chia, medicinal mushrooms, turmeric, and kale. From a comforting Smoky Pumpkin Soup with Candied Seed Clusters, to an irresistibly inventive Watermelon Goji Gazpacho, to the tasty Cacao Black Bean Soup, every health-giving bowl delivers deeply nourishing deliciousness that satisfies on every level. Along with beautiful color photographs, the book is full of helpful soup-making advice and information about the health rewards of superfood soups, including soup cleanses and rejuvenating broths. Watch the trailer here.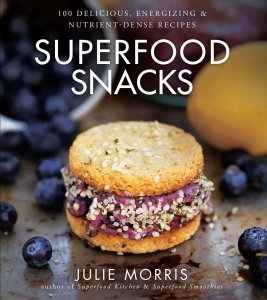 NEW! Cookies packed with protein. Savory crackers that help balance blood sugar. Chocolate truffles bursting with anti-aging antioxidants. With benefits like these, you'll never look at snacks the same way again! Julie Morris, New York Times best-selling author of Superfood Smoothies and Superfood Kitchen (both Sterling), proves that crave-worthy treats can be abundantly healthy too. Revolutionary superfoods like chia seeds, acai, and maca combine with whole food ingredients in 100 recipes, which creatively transform "guilty" pleasures into incredible snacks loaded with premium nutrients. From superfood standbys like the Every Berry Smoothie Bowl to adventurous must-tries like the Maqui Mint Truffles or Brussels Sprout Crisps, these wholesome snacks and sweets will nourish, delight, and energize the whole family.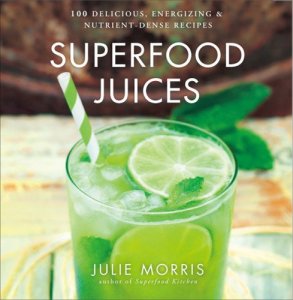 Juice it up, and start glowing—inside and out! Julie Morris, author of the bestselling Superfood Smoothies, serves up a fresh, ultra-healthy take on juicing with 100 flavorful recipes. Incorporating antioxidant- and vitamin-rich powerhouses such as açai, chia, ginger, and kale, these drinks cleanse, energize, and rejuvenate with every sip. Learn countless secrets that will take your juicing to the next level, with more healthy benefits and delicious rewards!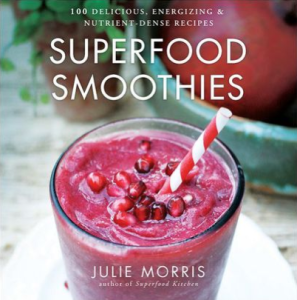 Everyone loves smoothies—and this is the ultimate smoothie book! Superfood expert Julie Morris whips up 100 nutrient-rich recipes using the world's most antioxidant-, vitamin- and mineral-packed foods, and offers innovative culinary methods for making your smoothies incredibly nutritious and delicious.Whether you're looking for an energy boost, seeking a gentle cleanse, or just trying to get healthy, you'll be inspired to power up the blender!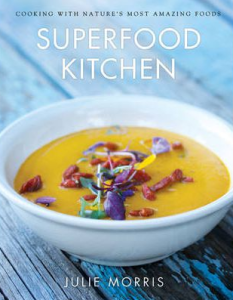 Welcome to the SUPERFOOD culinary revolution! In Superfood Kitchen, beautiful dishes are composed of plant-based, nutrient-dense, and whole foods that energize, nourish, and taste delicious. Each recipe artfully combines natural ingredients that deliver amazing amounts of antioxidants, essential fatty acids (like omega-3), minerals, vitamins, and more. The mouthwatering superfood meals—from Goldenberry Pancakes to Quinoa Spaghetti with Cashew Cream Sauce & Chard—will make you feel as good as they taste. The pages glow with beautiful photographs that will inspire home cooks to start enjoying the sumptuous pleasures of earth's best foods.