Healthy. Cheesecake. Sounds like two words that couldn't be more of an oxymoron, right? But believe it or not, with a little ingredient trickery, you can create a crowd-pleasing cheesecake that is truly guilt-free.
The first secret is in the crust. Cheesecake crust doesn't need to be crushed up cookies and butter. Sorry Betty Crocker, but we've moved on. Instead, we can make a delicious crust that's essentially equal to a nutrition bar, using real food ingredients like nuts and spices, and adding in natural protein powders and superfood powders. I use the best of both (powder) worlds: Amazing Grass Protein Superfood in the Pure Vanilla flavor, which not contains only a blend of plant-based proteins like hemp, quinoa, and chia, but also infuses a mecca of superfood powders, including 7 alkalizing greens and a 2 full servings of vegetables. Cool, right? My kitchen is absolutely stocked with this stuff because it's so versatile.
The next secret is in the cheesecake. Instead of using an embarrassingly large quantity of cream cheese, we're just using a little bit of soaked and softened cashews. I also slashed the calorie content of this cake by using agar, a gelatinous, tasteless seaweed, instead of butter or oil to help the cake solidify — such a great trick.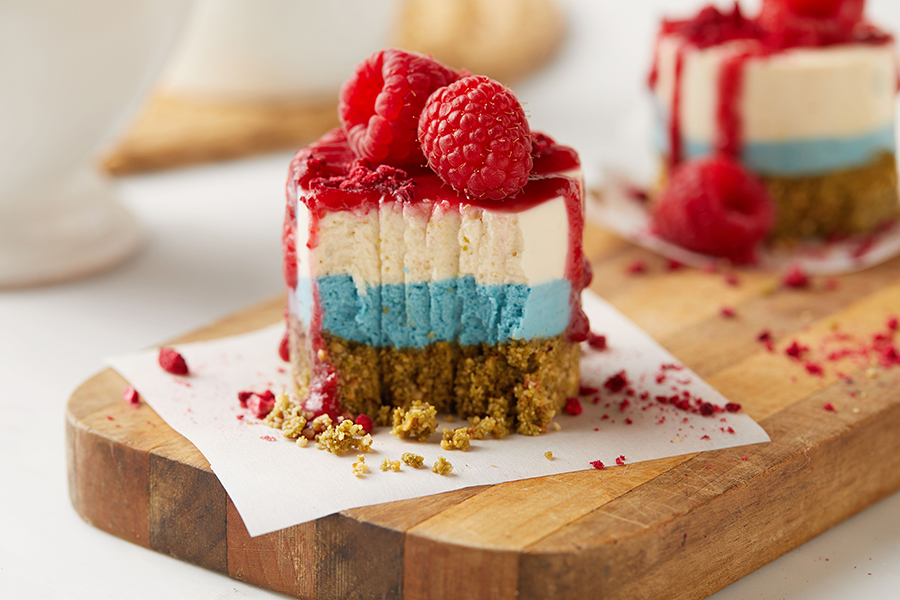 Lastly, you won't find any artificial food coloring here. Succulent fresh raspberries take care of our reds, and blue spiralina powder creates a beautiful blue — both of which add extra antioxidants to every indulgent bite. Happy Fourth of July indeed!
Lemon Cheesecake with Raspberry Sauce
This no-bake, oil-free, and reduced-guilt cheesecake becomes extra festive (Americana-style) by sprinkling blue spirulina powder into the cheesecake while blending for a red, white, and blue theme. You can also serve this recipe for any occasion by simply omitting the spirulina for a classic white cheesecake.
Makes 6-8 2″-3″ mini cheesecakes; Serves 6-8
1 cup raw hazelnuts, roasted and peeled*
1 scoop Amazing Grass Vanilla Protein Superfood Pure Vanilla
¼ teaspoon ground cinnamon
1/8 teaspoon sea salt
½ cup plus 1 tablespoon amber/grade A maple syrup, divided
1 cup water
3 tablespoons agar flakes
1 cup raw cashews, soaked in water for 6 hours or overnight
1 tablespoon (packed) fresh lemon zest
¼ cup fresh lemon juice
¼ cup almond milk
2 teaspoons vanilla extract
¼ teaspoon blue spirulina powder (optional)
2 boxes of raspberries (12 ounces)
Line 8 muffin cups with a 1/2-inch thick parchment paper strip "sling" for easy removal. Alternatively, you can use 8 silicone muffin cups, or 8 3-inch stainless steel ring molds on a plate lined with plastic.
To make the crust: Add the hazelnuts to a food processor and grind into a coarse flour. Add the Amazing Grass Vanilla Protein Superfood Pure Vanilla, cinnamon, sea salt, and 3 tablespoons of maple syrup. Process until a sticky dough forms, that retains its shape easily when pinched. Divide the crumbly dough between the 8 cups or molds. Use the back of a spoon to press down very firmly into a tight, compact crust.
To make the cheesecake: Add the agar and water to a small sauce pot and let soak for 10 minutes. While the agar is soaking, drain the cashews and add to a blender. Add the lemon zest, lemon juice, almond milk, vanilla extract and ¼ cup maple syrup. Blend until smooth and creamy. Keep the mixture in the blender.
If using, place the blue spirulina in a small mixing bowl and keep on standby, along with a spoon for mixing.
Bring the soaked agar to a boil over high heat. Reduce heat to low, and simmer for 5-6 minutes until thickened, stirring often. Working very quickly, remove the agar from the heat and pour it into the blender with the cashew mixture. Blend immediately, for 15-20 seconds until well combined. Pour about 1/3 of the mixture into the bowl with the blue spirulina, and mix well. Spoon the blue mixture on top of the prepared crusts. Pour the remaining white cheesecake mixture on top of the blue mixture. Refrigerate for a minimum of 1 hour to firm up.
To make the sauce: While the cheesecake is being refrigerated, puree the raspberries in a blender. Over a small sauce pot, press the puree through a fine mesh strainer or cheesecloth to remove the seeds. Warm the puree over medium heat and whisk in the remaining 2 tablespoons maple syrup. Bring to a simmer, then reduce heat to low, and cook for 5-6 minutes, stirring often, until mixture has thickened and reduced by about half. Remove from heat and refrigerate until cool.
When ready to serve, remove the cheesecakes from their cups/molds and onto serving plates. Drizzle tops lightly with raspberry sauce, and garnish with additional fresh raspberries.
*Roasting hazelnuts dramatically enhances their flavor. Spread raw hazelnuts on a baking sheet and bake for for 8-12 minutes at 350° F, or until lightly browned and fragrant. Let cool, then rub off the skins from the nuts.
Amazing Grass has generously offered an exclusive discount to JulieMorris.net readers: Get 40% OFF your order with code JULIEMORRIS16 (you must create an account in order for the code to work). This post is sponsored by Amazing Grass – all opinions expressed are entirely my own.