During the four years I lived in Portland in my 20's, I called four different places home … the second of which was by far my favorite. What this studio lacked in size, it made up for in character. Sure, I may have had to live without a proper table, and once tried to stick my bed partially in the walk-in closet just to gain the extra feet (that didn't last long), but it was things like the interior french door room dividers, victorian crown moldings, fairy-esque handle on the front entrance, and large, light-flooded windows were what made me stay well over a year, even though I often felt like a cat stuffed into a mouse house. My favorite part of that studio was the kitchen nook — a corner area that probably spanned all of about 20 square feet, but was entirely made up of windows, and looked out from above onto the charming neighborhood street. I used to curl up in that corner and watch the rain, and since it rains a lot in Portland, that was quite often.
After one particularly torrential November night, where the wind blew so hard that raindrops were splattering on my windows like I was in a car wash, I awoke to find a new sight in my nook overlook. Overnight, the wind had shaken all the leaves off of a nearby tree, revealing fully naked branches save for an impressive collection of large orange ornaments hanging festively — a surprise very much akin to when you come home to find your neighbor's house suddenly covered in Christmas lights. I grabbed my jacket and ran out onto the street to see what they were … what kind of tree was that? I found my answer while surveying a few "ornaments" that had splatted on the street. "They're persimmons," a woman said chattily as she walked by with her dog, who strained on his leash to eat them.
That was the first year I discovered the magic of Hachiya persimmons – the kind that are rounder, take forever to ripen, but are absolute fruit gold in their prime. These types of persimmons are enormously high in tannins, the compound in some types of produce that makes our mouth feel instantly dry and our lips pucker. The tannins reduce as the fruit ripens, so the only way to avoid them is to wait. And wait. Hachiya persimmons need to become so soft they should feel like a water balloon that's ready to burst. But when they're ready, they are the epitome of a fruit delicacy.
Mostly sold while still hard at the store, I often buy far too many when I see them first make their short seasonal appearance, and set them out as a little persimmon collection on my counter in hopes that they'll ripen at different stages, offering a steady stream of sweet heaven for a couple weeks. Usually though, they take even longer than I've thought. I poke them every day in hopes that today I might get lucky, but they just sit there, pompously hard, for weeks. Until that is, one day, where they all decide to ripen at once, and suddenly I have a wonderful problem on my hands. I slurp down one or two over the sink, like a wild kitchen beast, and then begin to reap my harvest, looking for ways to put this special fruity prize to use. And though I rarely bake, I can't help but get excited to turn the oven on for a persimmon cake … just in time for the holidays.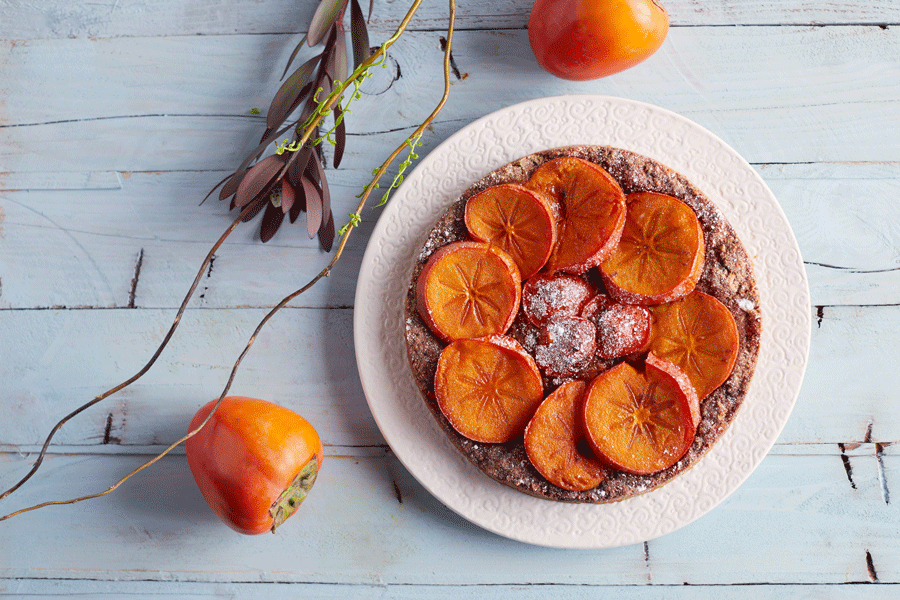 Persimmon Cake
This coffee-cake-style pastry is ideal for a brunch or afternoon tea snack. Take advantage of sweet persimmons while they're in season, and for best results use very soft (ripe) fruits only.
Makes 1 cake / Serves 12
2 tablespoons ground chia powder
1/3 cup water
1 cup whole wheat flour, or gluten-free flour baking blend
½ cup blanched almond meal
1½ teaspoon baking powder
½ teaspoon sea salt
¼ cup melted coconut oil
¼ cup unsweetened applesauce
¾ cup + 2 tablespoons coconut sugar, divided
1 teaspoon freshly grated Lemon Zest
1 teaspoon vanilla extract
2 large very ripe Hachiya persimmons
¼ cup sliced almonds
Lucuma powder, or powdered sugar, for garnish (optional)
Preheat the oven to 350° F. Coat a 9" spring-form pan with an oil spray.
Stir together the chia powder and water in a small bowl. Set aside.
In a medium mixing bowl, stir together the flour, almond meal, baking powder, and salt. In a separate medium mixing bowl, combine the coconut oil, applesauce, ¾ cup coconut sugar, lemon zest, and vanilla – mix well to incorporate. Stir in the flaxseed mixture. A little at a time, fold in the dry mixture into the wet until just incorporated – batter will be thick, but do not over-mix. Transfer the batter to the cake pan, and smooth out the top into an even layer. Slice the persimmons into half-inch thick rounds and place them decoratively on top of the cake. Sprinkle the remaining 2 tablespoons coconut sugar on top. Bake for 45-50 minutes, or until top is golden and a toothpick inserted into the middle of the cake comes out clean. Let cool on a cake rack until fully cool before removing from pan. Sprinkle with almonds and a little lucuma powder or powdered sugar, then cut into slices and serve.